The Most Extreme Jobs Demand DripDrop ORS

Get Dehydration Relief - Fast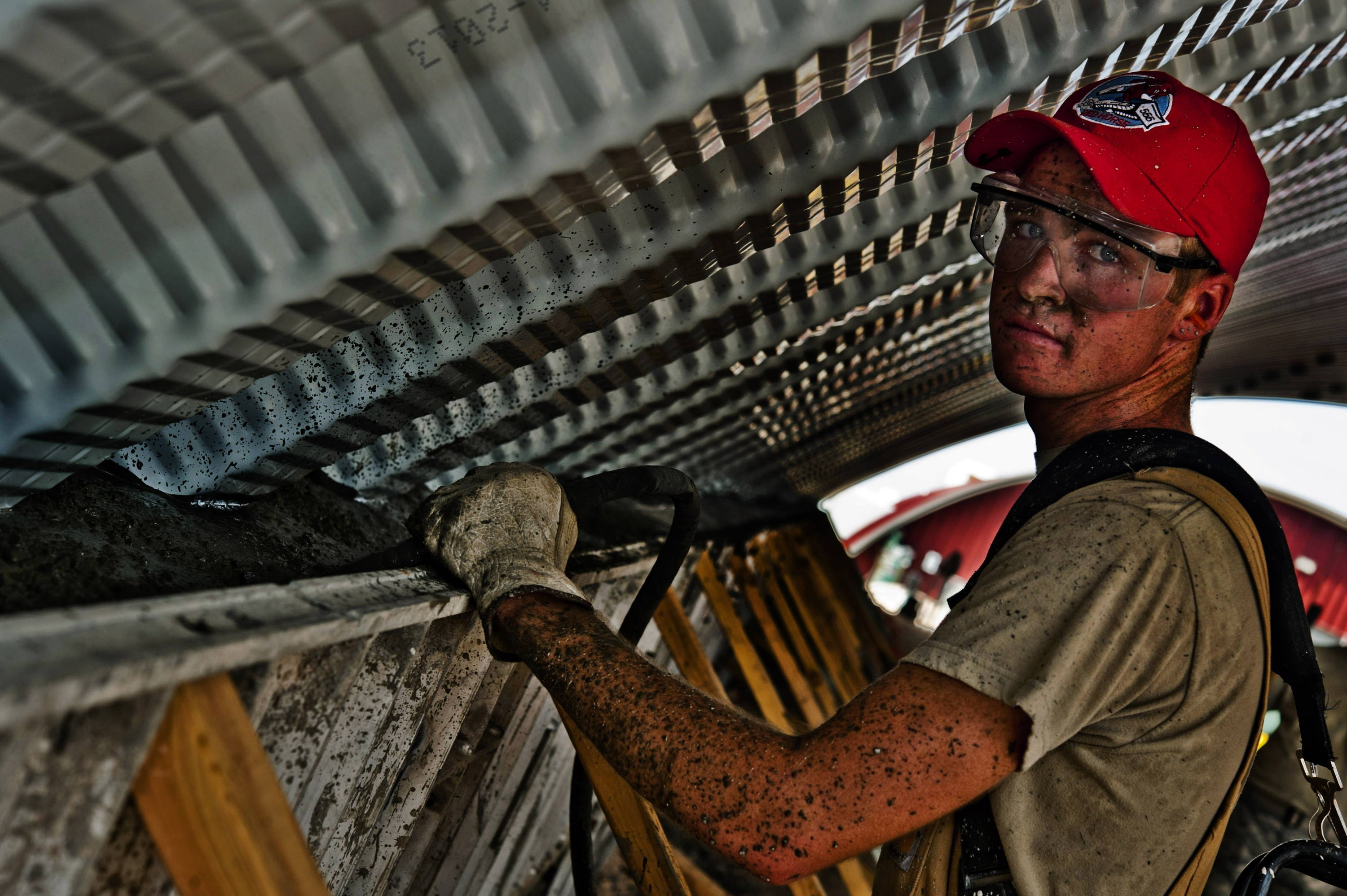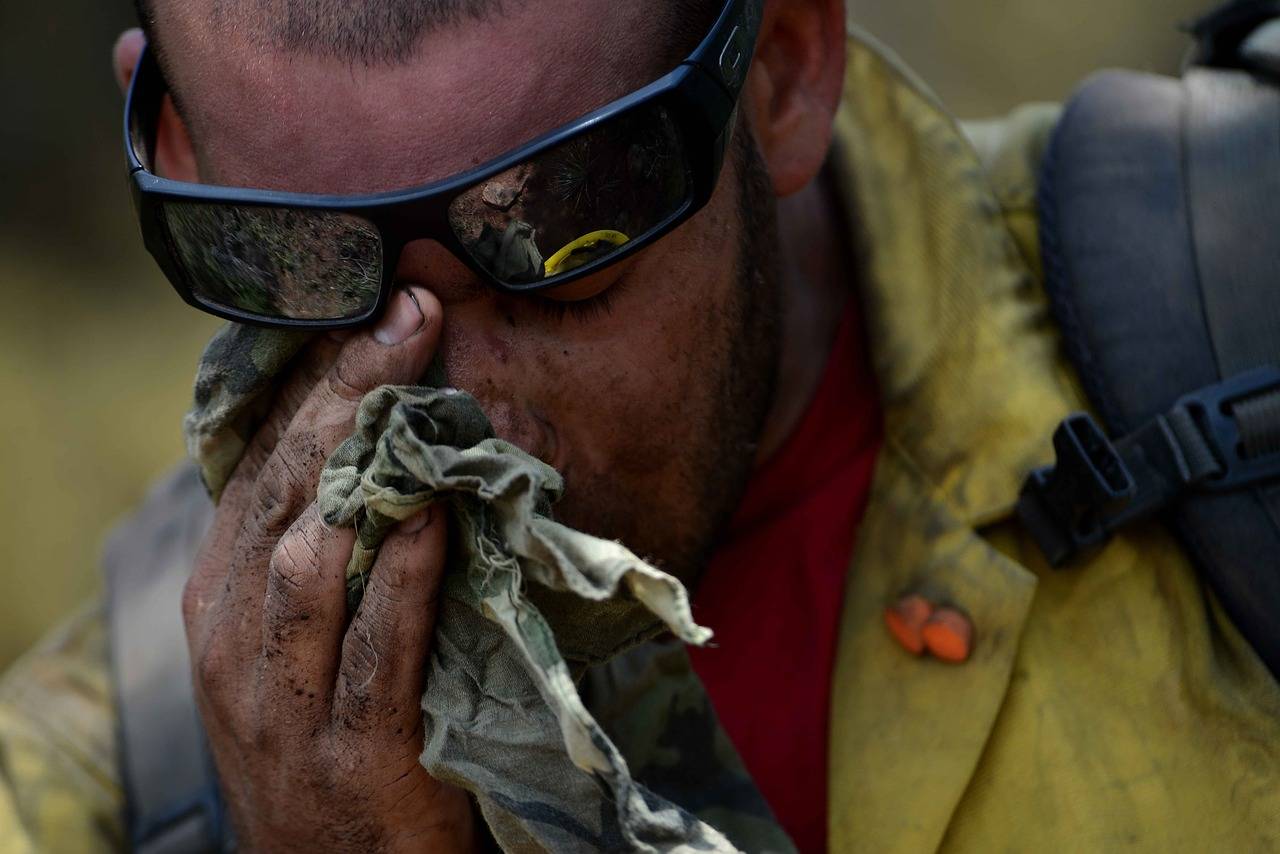 Firefighters and First Responders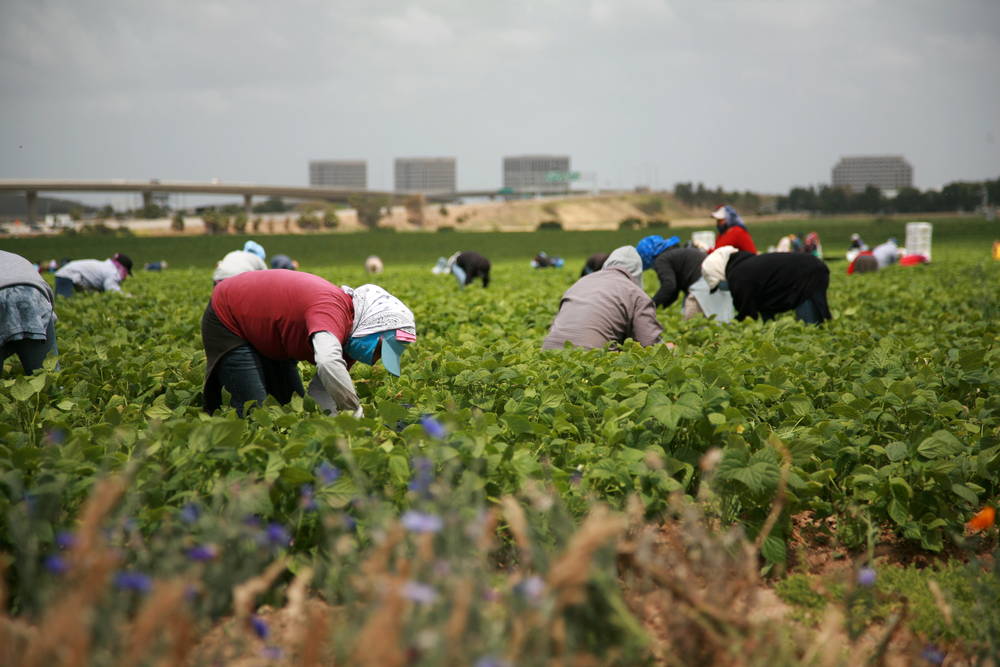 Agriculture and Landscaping
Water and Sports Drinks Can't Sustain Your High Performance

Keep Your Crew Safe in the Heat of the Summer with Dehydration Relief that is as effective as an IV*
DripDrop ORS Works Faster than Sports Drinks to Treat Dehydration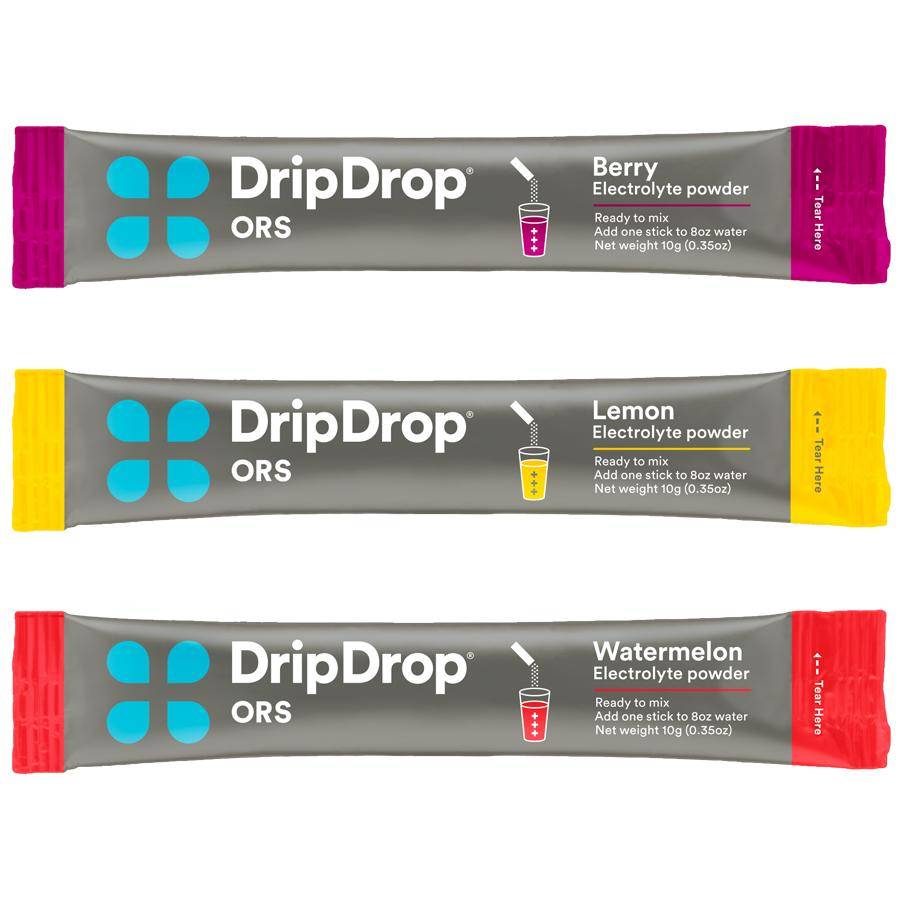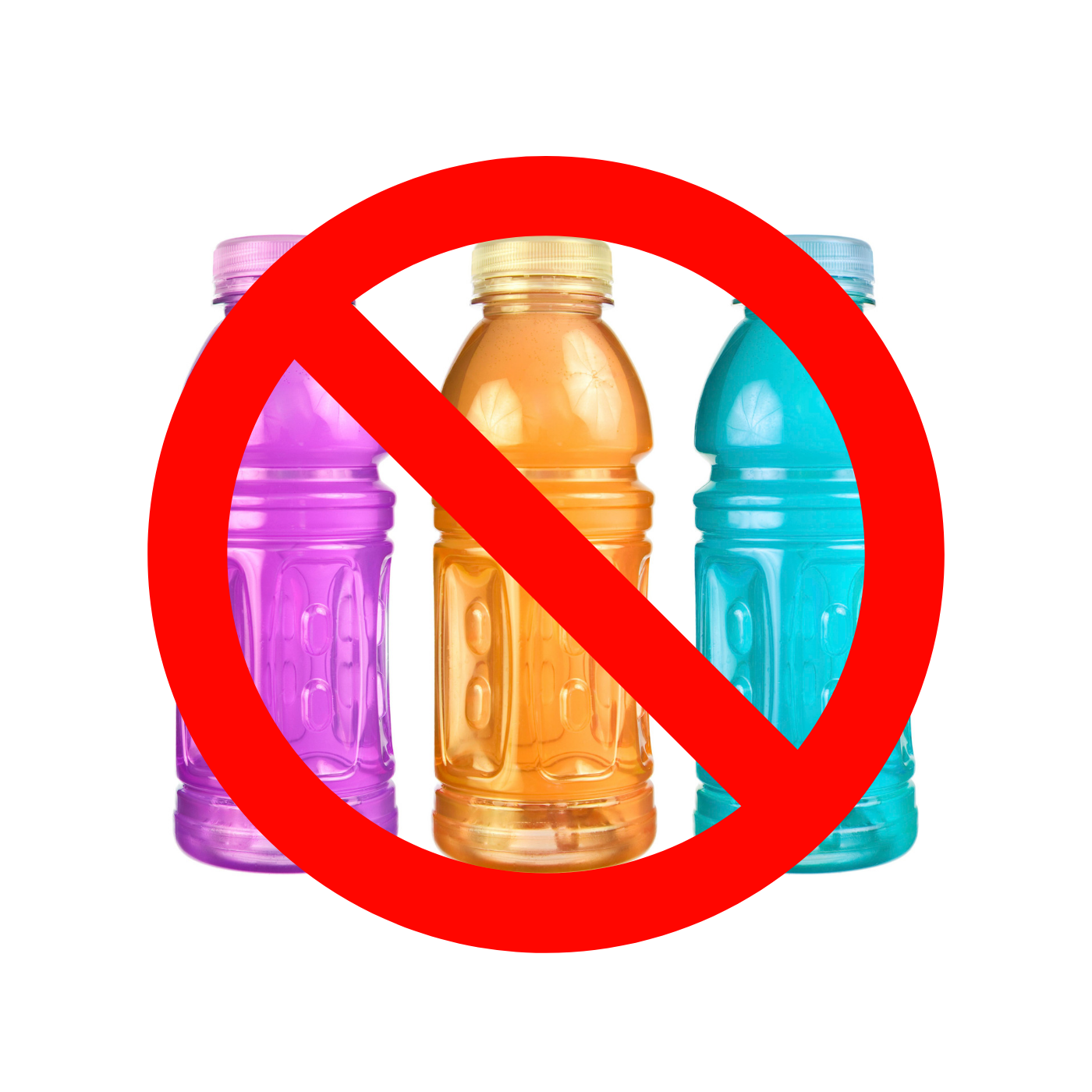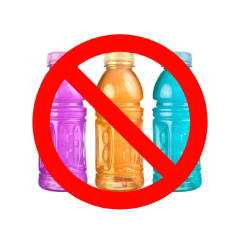 | | DripDrop ORS | Sports Drinks |
| --- | --- | --- |
| ORS treats dehydration as effectively as an IV* | ✔ | X |
| Medical-grade oral rehydration solution (ORS) | ✔ | X |
| Meets the World Health Organization standard of an ORS for fast fluid absorption | ✔ | X |
Oral Rehydration Solutions (ORS) are scientifically proven to efficiently replenish fluids and electrolytes as effectively as an IV.*
| | DripDrop ORS | Sports Drinks |
| --- | --- | --- |
| Treats dehydration as effectively as an IV* | ✔ | X |
| Medical-grade oral rehydration solution (ORS) | ✔ | X |
| Meets the World Health Organization standard of an ORS for fast fluid absorption | ✔ | X |
Get DripDrop ORS for Your Crew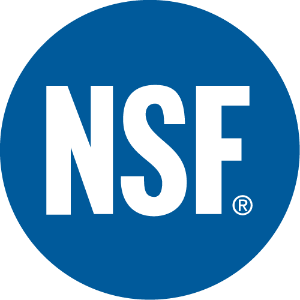 Doctor-developed, doctor-approved.
As an oral rehydration solution (ORS), every electrolyte powder stick of DripDrop ORS is meticulously formulated for fast absorption and long-lasting fluid balance, making dehydration recovery as effective as an IV*. More effective than alternatives like water, sports drinks, and even electrolyte beverages such as Pedialyte.
Mix 1 pocket-sized package with 8 oz. of water.
Elite Early Adopters Who Use DripDrop
US Special Operations Operators
All Branches of the US Military
California Wildfire Teams
Players from the NFL, NBA, NHL & NCAA
What Our Customers Have Said...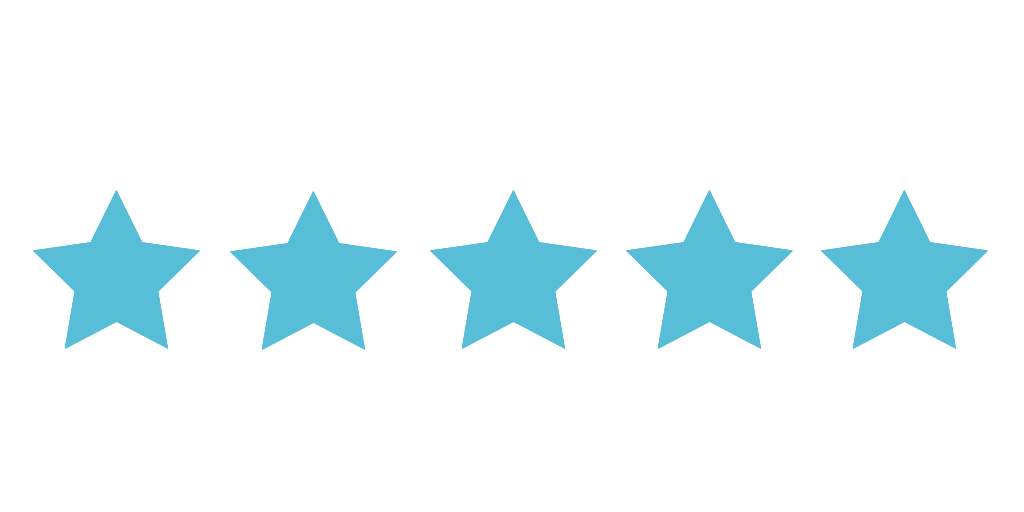 "This summer I had only one Hotshot suffer a heat related illness requiring him to be airlifted to the hospital. After questioning him and the crew, I discovered he was the only employee who chose to not use DripDrop that day."

- Laguna Hotshots Leader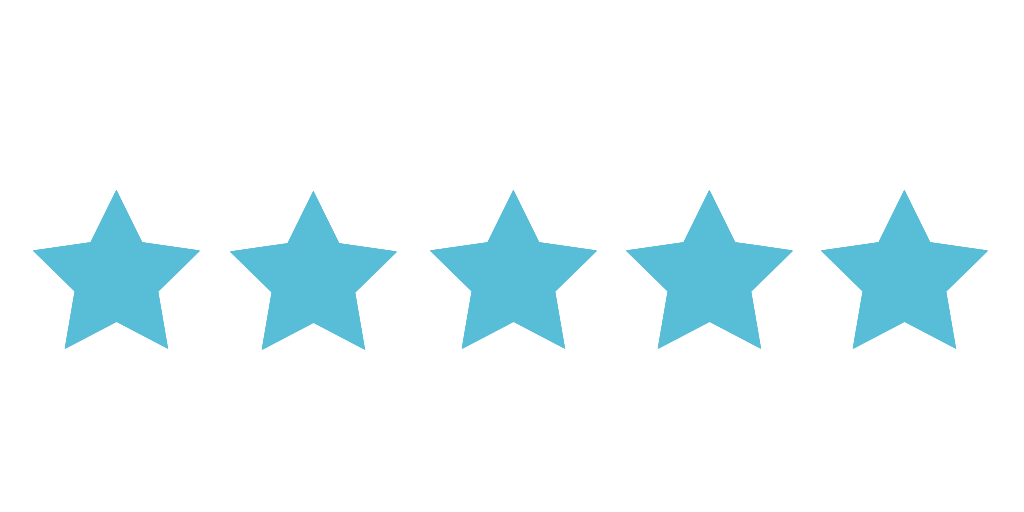 "DripDrop ORS is our mandatory hydration solution. It has reduced our need for IVs."
- C. Francis, Performance Specialists for the NFL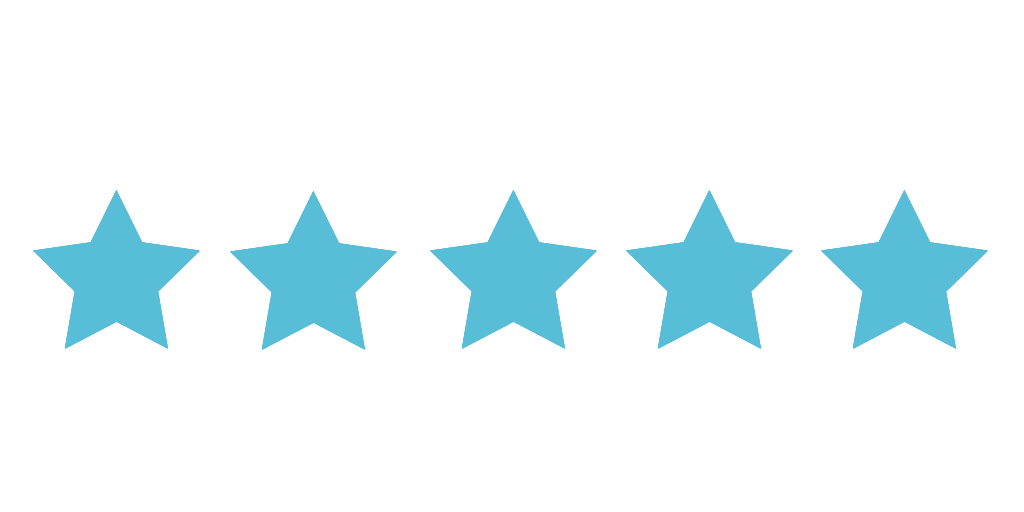 "I am convinced that if I had not taken DripDrop I would not have been able to continue on with my task."
- Arrowhead Hotshot
How Does DripDrop ORS Work?
When You're in a Dehydrated State, No Amount of Water is Enough

So what's going on inside your body and how does DripDrop ORS solve it? Here's the science of dehydration relief in bullets:
●  Must. Have. Sodium. We've come to think of sodium as bad, but in dehydration relief, it's a key ingredient. Problem is, sodium alone has a hard time getting through the small intestine.
● Add glucose. Don't worry, we're not pushing sugary drinks on you. Fact is, glucose helps sodium get from the small intestine into the bloodstream. So we've added just enough glucose to make that happen. It's called the sodium-glucose co-transport system.
●  Now that the sodium and glucose have reached the bloodstream, the gate is open for water to get through, plus other electrolytes like zinc, potassium, and magnesium to relieve dehydration fast.
● That's why it's used by people who really need relief: wildfire fighters, US Armed forces, and sick kids in humanitarian crises where DripDrop ORS was first conceived and where it's still used today.
Get the Best Value with the 80 Count Box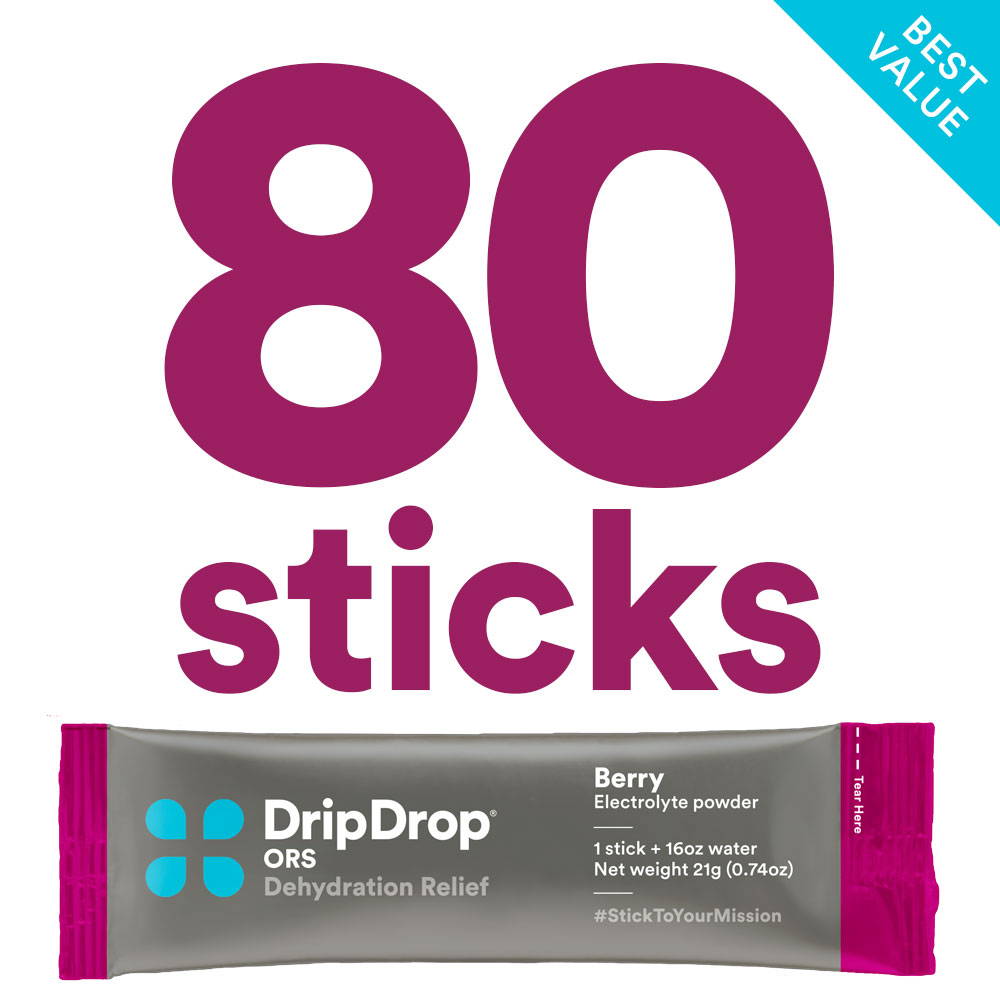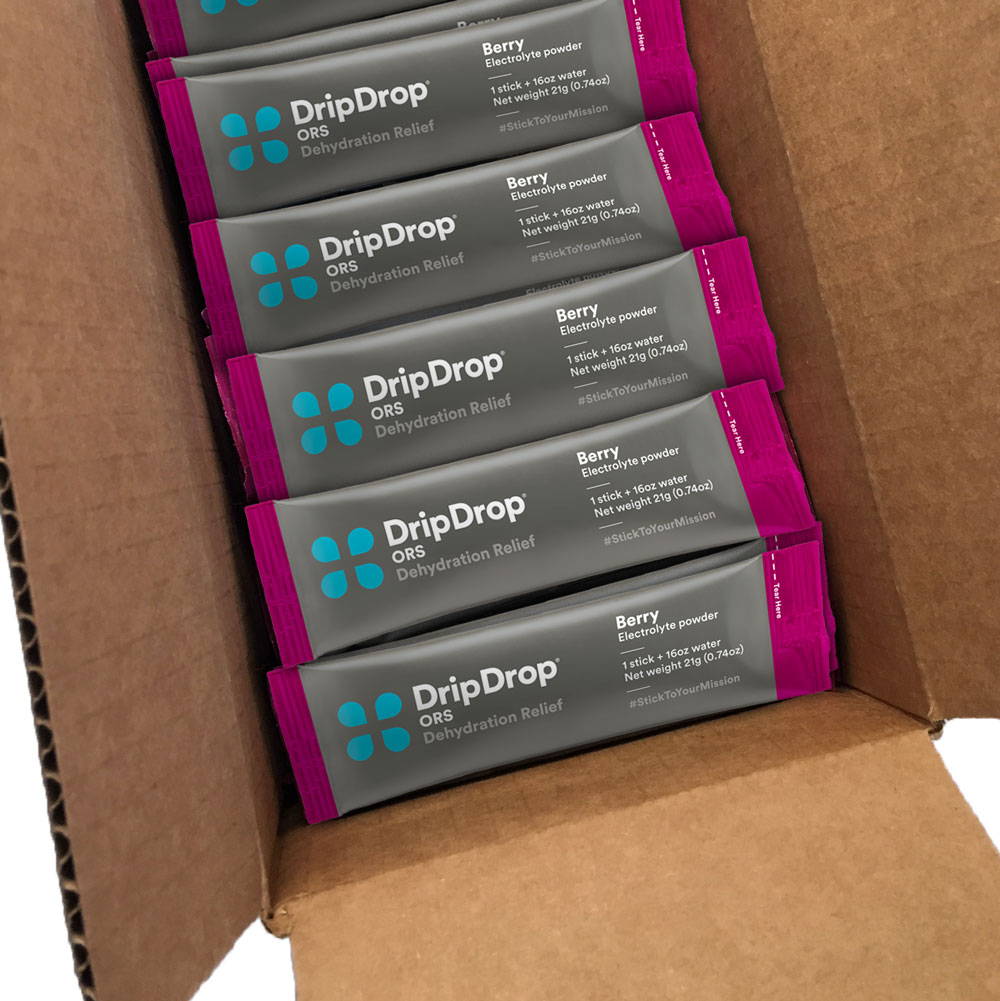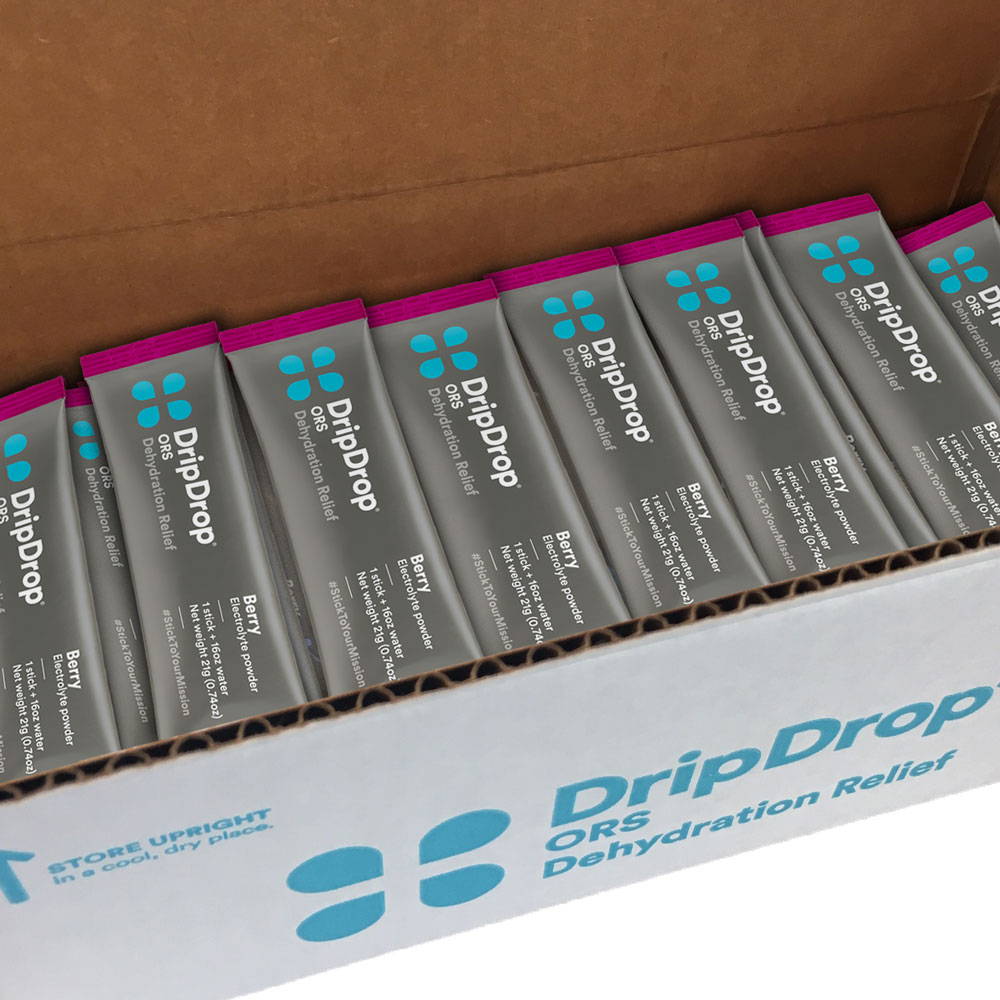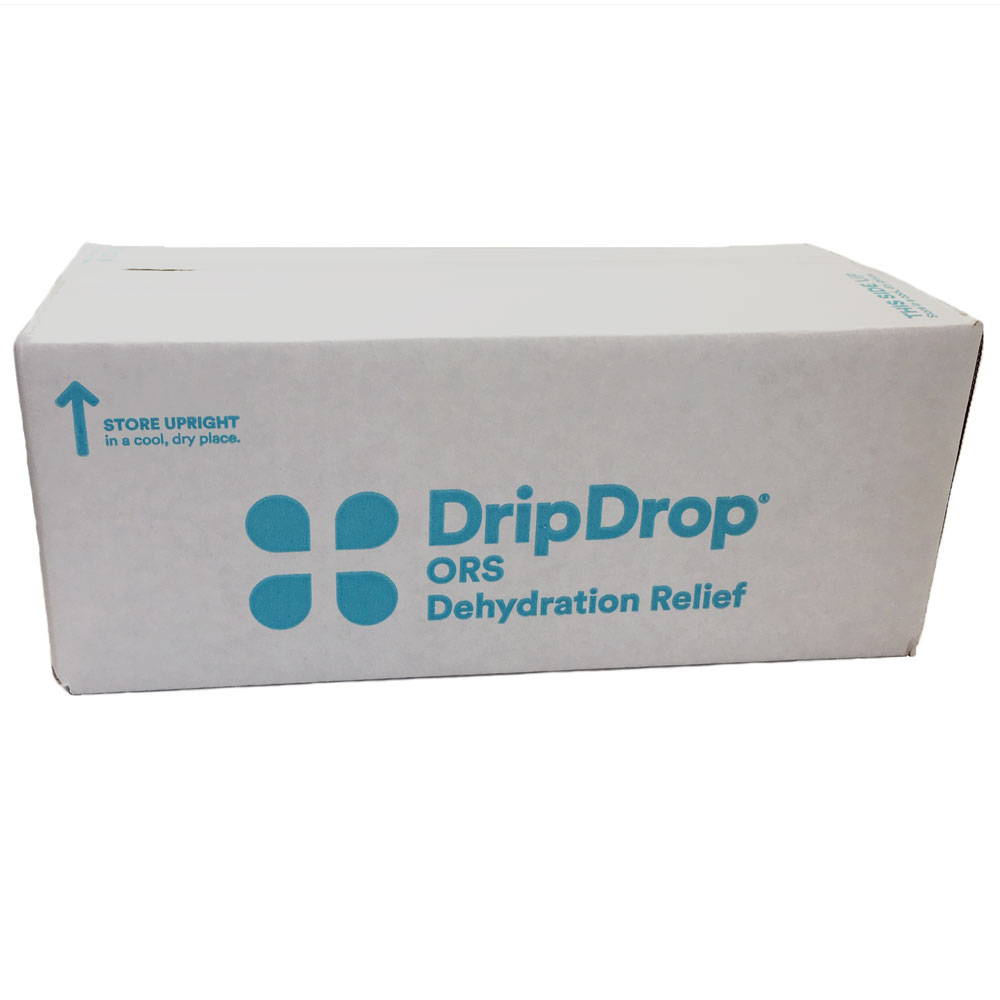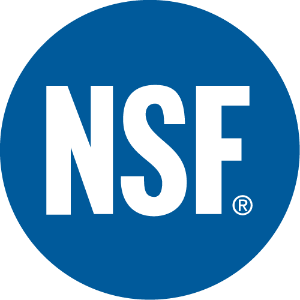 Save money and have your crew performing at the highest level
- Born on a relief mission, now available to you
- Treats dehydration as effectively as an IV*
- Meticulously formulated for fast absorption
Mix one packet with 16 oz. of water.
DripDrop ORS Tastes Great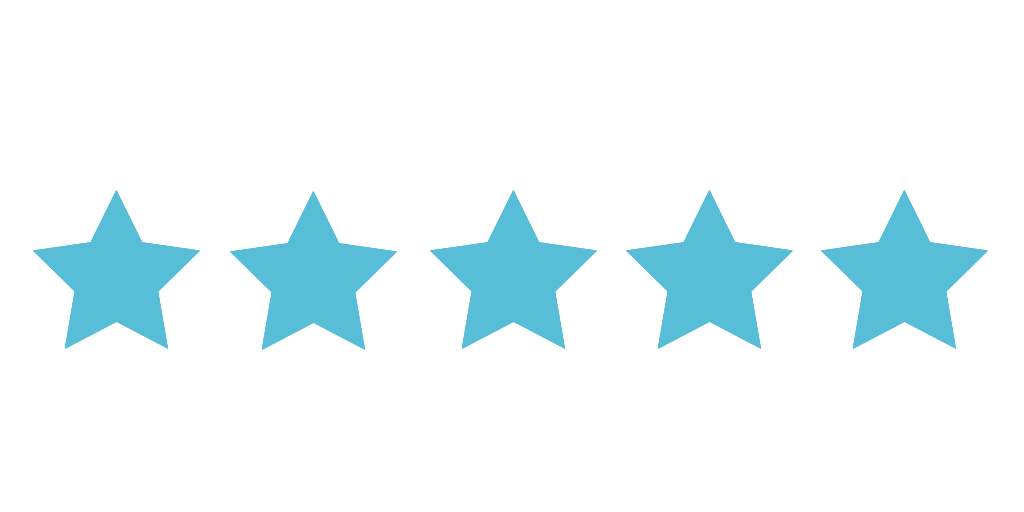 "My favorite ORS product. Tastes good, works great and convenient."
Amy K.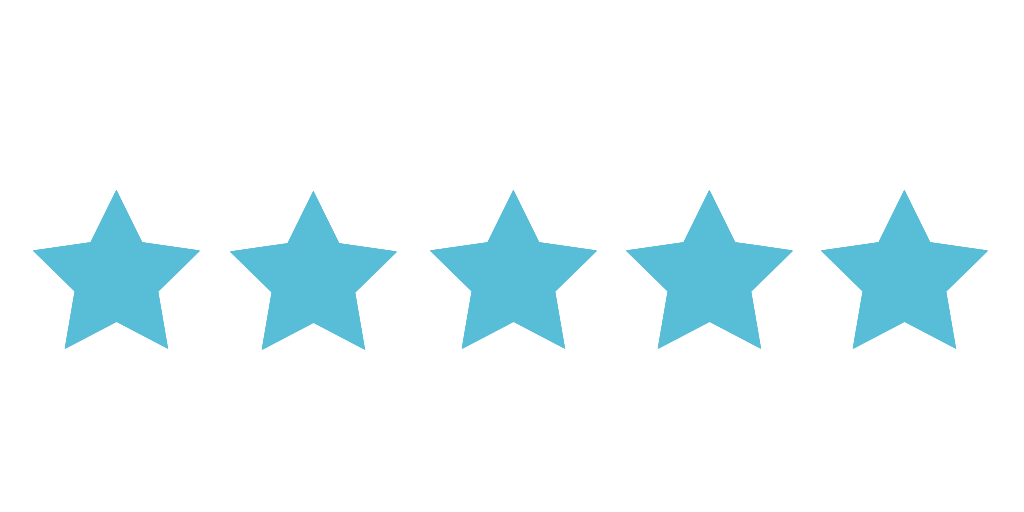 "DripDrop tastes better than any other ORS, and I've tried them all!"
Jessie A.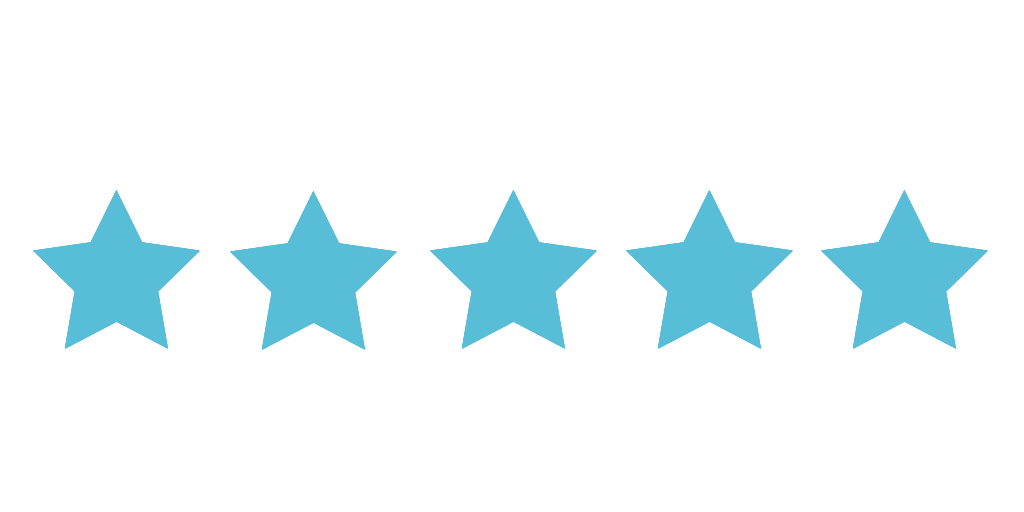 "One of the few oral rehydration solutions that tastes good to me, after trying many. Not too sweet, but refreshing and lemony."
Brittany K.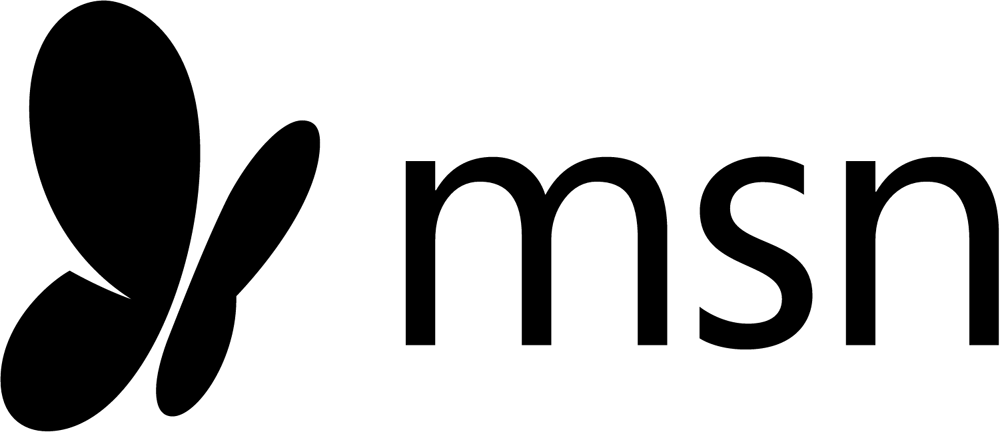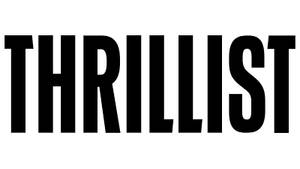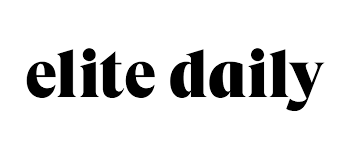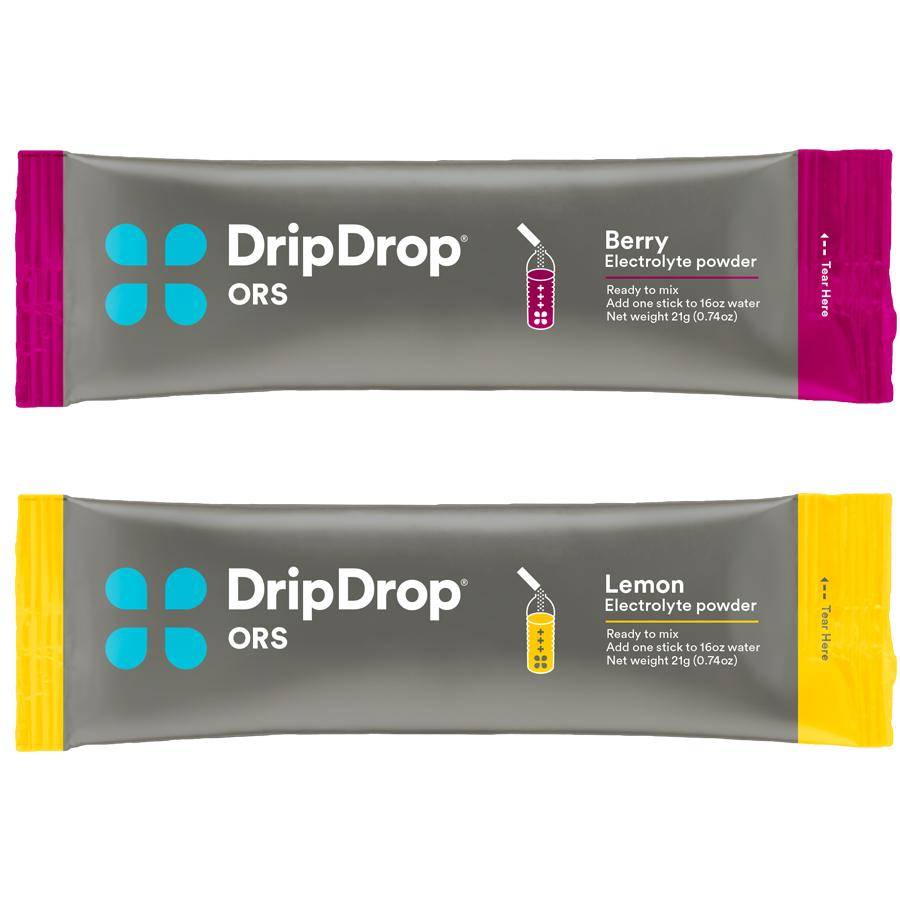 DripDrop ORS Full Dose
$9.99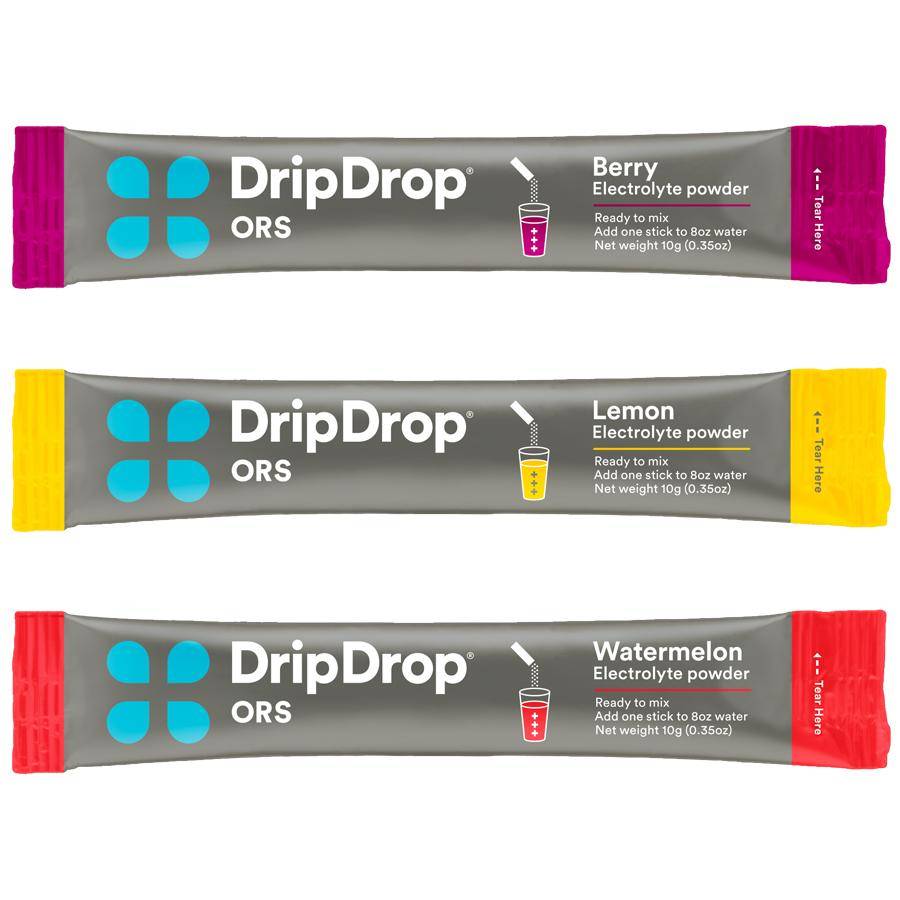 DripDrop ORS Half Dose
$9.99
---
*2003 clinical study shows no difference in efficacy between ORS & IV